HOL Blog


The 40th edition of the Gryffindor Paw Print is up! Come on in and witness our world of riddles, ramblings, and riots.

If you are interested in writing an article, or articles, for the Paw Print, please send articles, or articles ideas to Zenix by the 28th of October. Happy Gryfftoberfest!


When sane people think about October, they think of leaves changing colors, pumpkins, Halloween, you know, the changing of the seasons and all that good stuff. However, for those of us who are insane, we think about... BUTTERBEER!!! That's right cubs, there's a much more important holiday than Halloween in Gryffindor House. The whole month of October is dedicated to something uniquely Gryffindor: Gryfftoberfest!

So, those who are new to Gryffindor might be wondering what this whole Gryfftoberfest thing is. Basically for Gryffindor's it's about celebrating who we are, what we are, why we are, where we've come from and where we're going. We do this by celebrating with lots of good food, insanely enormous amounts of butterbeer, and month long festivities such as games, challenges, and general silliness within the house! It's our month to show off how unique we can be to our friends, our fellow house mates and of course, the rest of HOL.

So, what's the big deal, right? Well, what's the point of having a huge party if it's not HUGE?! So we would love to have each and every Gryff get involved and show off your spirit! After all, it's not just the cheerleaders who are allowed to have spirit, this month we want you to shine as much as you can and participate and most importantly, HAVE FUN.

You can participate in any of the numerous contests and activities we've got around the house. Check this forum for all your Gryfftoberfest needs! Make sure you keep checking back there throughout the month, as it is ENTIRELY possible that additional contests may be added (after all, SPD are the most insane people in the house. Please make sure to try your best and embody the motto voted on this year, "Gryffindor, so insane we broke the padded walls." as well as the avatars and signatures that were voted on! Remember to use them proudly on the house forum and on the HOL forum! Go get them, Lions! Have fun and HAPPY GRYFFTOBERFEST!
I found an interesting letter tonight pinned to the mantle by the fireplace when I was patrolling the Common Room after curfew...




It had a very shiny knife that was pinning it. Now I do not find this amusing in the least, but it leads me to believe that those in the GCR need to keep close attention to make sure everything remains alright!

Looks like there's interesting times ahead of us...

Like the name of the forum says, it involves Lion Cubs and Pawtners and it's a project! The idea is to help new Gryffindor students to get to know their house and housemates by pairing them up with an oldbie, aka someone who already has been in HOL and Gryffindor for a while and knows their way around (basically this means second years and above - not repeating first years). We know this place can be relatively confusing for someone new and they might need a friend to make it easier to fit in around here, older people (in HOL age) again could use this as an opportunity to get to know some of the new firsties and have fun.

There is already a HOL-wide project like this one (and some of the other houses have something of the kind going on as well), but LCPP is meant specifically for Gryffindors to get settled and find friends in their own house, your "adopter" will be able to help you with questions you might have about Gryffindor and they can introduce you to different areas of our house. You're of course welcome to sign up for both the HOL project and this one!

Before we start accepting first year sign ups for the project, we are in need for our older students who want to participate to sign up and follow the directions here.

After a few days, when we have enough students to help our first years we will be opening another topic for our first years to sign up in. We hope to have a lot of people participate. We ask that if you have any questions to first read our FAQ.

Thanks,
Cyriel Aurorus, Jenny Lupin
The Gryffindor Common Room will be down for maintenance on August 6th, 2009. Hopefully everything will go smoothly and it will be back online the following day. If it isn't, just wait patiently.
Greetings! New student sign ups have opened again for the next term, so we'd very much like to welcome all new Lions to HOL and to Gryffindor.

Since not everyone finds their way to our fantabulous Common Room right away, we thought we'd use the HOL Blog to point you to the right direction. No one can be obligated to join the CR, but believe us when we say that if you for some reason ended up not doing it, you'd miss out on a looot of fun and a huge part of what being a HOL members is all about. Thus, wait no more and head over to the Gryffindor Common Room

Before you register your account, please be sure to read the quick guide to doing it correctly, found over here, otherwise you might not get validated on the first try. We realize that HOL can be pretty confusing for someone who has only recently joined that wonderful community, so remember to turn to any of the Gryffindor Prefects (the full list of them is posted right here for help and guidance.

Also, let us remind you that Gryffindor Summer Camp registration is open for absolutely all Lions and that it's an awesome way to meet your first Gryff friends and start feeling at home in your House. All you have to do is wait for your CR account to be validated and then sign up for the camp. Check here (the link won't work before you've had your account validated) for info about how to do that.

Again, welcome to HOL and to our lovely House!

Your Gryffindor Staff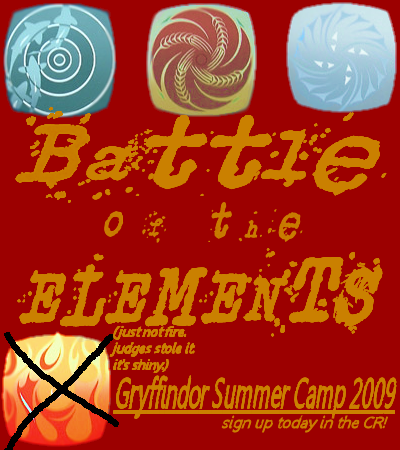 It's that time of year again! As you may have been able to tell, the common room has been aflutter with activity. We're all getting ready for our yearly summer camp! o/

In previous years we've done Olympics, pirates, and many other things.This year our theme is a Battle of the Elements and the first team to make it to Mythical Mount Olympus will win! Of course, there will be many battles along the way...

Sign up today (you Gryffindors in hiding) in the common room for the best adventure you could have this summer!


Beedle the Bard Challenge

Gather round all Gryffindors!

In celebration of JK Rowling's new book, there will be a Beedle the Bard challenge for all Gryffindors brave enough to enter.. So get to the Common room, and join if you dare.

There will be 6 Terrible Tasks which the teams have to fulfil, testing your wit, creativity and cunning, all in theme of Rowling's new book. This test of endurance and skill will start on February the first, but there is already an opportunity to get your team some early points to get a bit of a head start..

So don't wait any longer.. Join now!

Teams

Two heads are better than one, and the challenging nature of this challenge requires you to battle in a team of two (so two people in one team).
Found a team member? Then you can sign up in this thread.
You want to participate but haven't found a team member yet? Then refer to this thread.

Scared that's it undoable? Don't dare to join?
Don't be! Find your inner-Gryffindor and subscribe today!
Not scared at all?
Prove it! Find your inner-Gryffindor and subscribe today!

Haven't read the Tales of Beedle the Bard yet? Don't worry! There is a tale in the Deathly Hallows which you can use as well! Haven't read Deathly Hallows? Then you can just come up with a story! So no excuses not to join, it will be a lot of fun.

See you there!

- Ronja Liek
- Barbara Phoenix

For more information regarding the Beedle the Bard Challenge, go to thisthread. Any questions left unanswered? You can ask them here.
After many days of beating my head against the side of the Gryffindor tower and running the house alone, I have come to the decision that I cannot run it all by my lonesome. My staff helps enormously but I still needed a second in command. I have searched hi and lo in the Gryff house to find someone who I could trust with the secrets of Gryffindor and some people when approached ran away from me screaming. The one person who has always been there helping without question has been Missa Matz, and I didn't even realize that she already knew the most important secrets of the house anyway, some of which she taught me on my first day as a student.

I've always had my eye on Mrs. Matz but wanted to wait until she had finished her educational career here at HOL, but now I do believe that she has graduated. A task that is very hard to do.

Without further ado, and gnawing your ear off anymore, I'd like to announce that Missa Matz has accepted my offer of being the Deputy Head of House of Gryffindor. When you see her in the halls please treat her as you do all the rest of the deputies, but try not to hurt her too much. She did play 7 years if quidditch after all.

Prof. Hatshepsut Nahyan