HOL Blog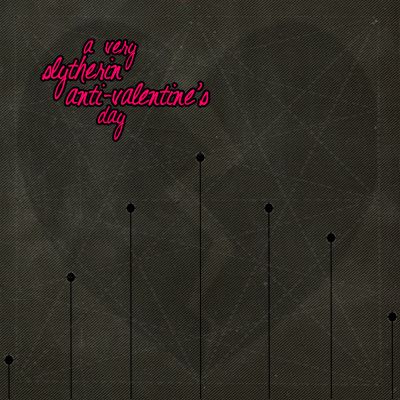 **Clicky the image**

Tired of bright, happy Valentine's Day activities?
Then here's a Slytherin activity just for you!
Join us in the Dungeons right now to participate in A Very Slytherin Anti-Valentine's Day!

*Image by Rosemarie Halliwell*

**Clicky the image**

Merry Slythmas, HOL! It's that time of year again! Celebrate your Slythmas this year with fun activities in the Dungeons!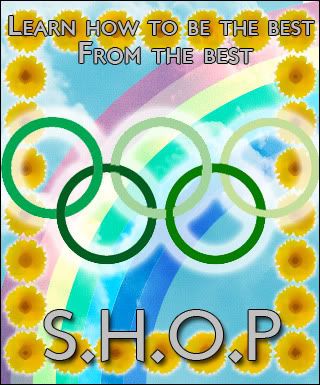 Click the image to be taken to the Slytherin Hatchling Orientation Program (yes, S.H.O.P). You must have a validated Dungeons account to follow this link. If you do not have one, sign up here using your HOL name.
Graphic made by our own resident fluffy bunny, Alexander Greb.
(for the record, the rainbow and sunflowers are to lure in unsuspecting badgers - Basil is hungry)
...I'll be gone when the morning comes! *air guitar*

As most of you know, I recently managed to get myself kidnapped (again). Yes, it's the second time I have fallen victim to a dastardly Napper, and despite the media reports, I was not a willing victim!

As a result of said kidnapping, I am far too traumatised to continue working at HOL. I'm sure another DaKeed Napper will surface eventually so I'm getting in my rocket and running away to the moon. I hear DaKeed Nappers hate the moon.

But in all seriousness, my muggle life has become quite demanding and no longer leaves much room or energy for HOL. I am moving up in my career, getting married next year and planning on creating my own army of Slytherin babies. I can no longer contribute to HOL as a Head of House should, and therefore have made the decision to resign from my post (yeah, again).

The new Head of House will be *drumroll*...

PROF. DAPHNE MARIN BOOTH

I welcome ALL speculation that she has been plotting this takeover for quite some time!! I am convinced that the recent kidnapping was the latest instalment in her plot to take over the world.

I am sure that Daphne will take good care of Slytherin along with Prefects Alaia, Alex, Opal, Rayne and Rosemarie. It should be noted that Justine Provencal and Sirithre Leylnn are no longer Prefects. I would like to thank Justine and Siri for all their hard work while their were enslaved.

On a personal note, my time at HOL has been full of ups and downs, but the best thing I will take away from here is over 10 years of friendship. I have met some truly wonderful people who really have changed my life.

Thank you to those who have helped me and supported me, and I wish you all (especially Daphne, Alaia and my Snakes) the best.

- Prof. Ashlee Sully
For the times they are a-changin'...

I am very pleased to announce that the following Slytherin Promising Students have been promoted to Prefect! They have shown great dedication over recent months. This job will be all sunshine, rainbows, blue skies and flowers... well, that's if the last Slytherin blog post is anything to go by...

Please join me in congratulating:

Opal Curare
Alexander Greb
Rosemarie Halliwell
Rayne Devereaux

They join Prefects Sirithre Leylnn, Justine Provencal and Head Prefect extraordinaire, Alaia Logan!

It's also with sadness that we say goodbye to Ariel Kingston as Prefect. On behalf of the house, I'd like to thank Ariel for her work and I hope that she is able to rejoin us soon!

Let's eat chocolate!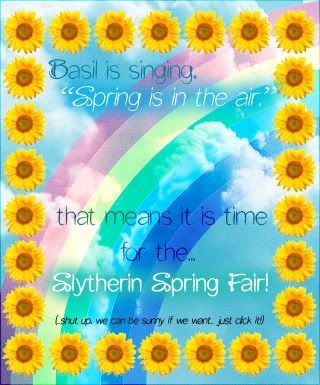 LADIES & GENTLEMEN, ICKLES & OLDBIES, ROLL UP, ROLL UP, AND WELCOME, TO THE SLYTHERIN SPRING FAIR!!!

Each week various activities will be posted for you to try your hand at.

Like solving puzzles, showing off your general or HP knowledge, displaying your artistic talents for all to see, have an over-active imagination, fancy yourself as the worlds greatest cook, or would rather be playing games. Whatever you like to do most, we will have something for you!

Feel free to take part in as many, or as few activities as you want. No pressure, no expectations, just get in there and have some fun!

Click the above picture for more details and to go to all the fun!!!





That's right Slytherin students, it's Slythmas time again! Head on over to the forum to the special Slythmas section and you'll find some fun contests to participate in, and we have more to come!

For those not in the house, feel free to come and check out our Winter Wonderland and snow!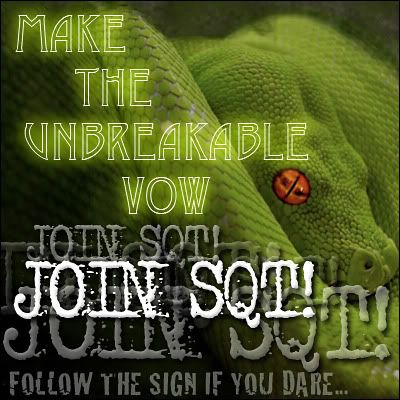 Many years ago Salazar Slytherin put together a group of the most ambitious, cunning,and pure-blood Slytherin students he could find. He called this group the Slytherin Quidditch Team. Now Slytherins, it is our turn to make the our great Founder proud. Grab your brooms, it's time to fly with SQT!

Click the image above made by seeker extraordinaire Faye Roderick for information on how to join SQT.


Click the above image to check out our awesome paper.

The school year has started and the snakes have been busy. After countless amounts of pokes and prods from the pretty awesome Serpentimes staff (cough*SIRI*cough), the paper is finally ready! So sit back and enjoy our back-to-school edition.If you think this will be it for us? You are mistaken! This issue is just the tip of the iceberg for Serpentimes.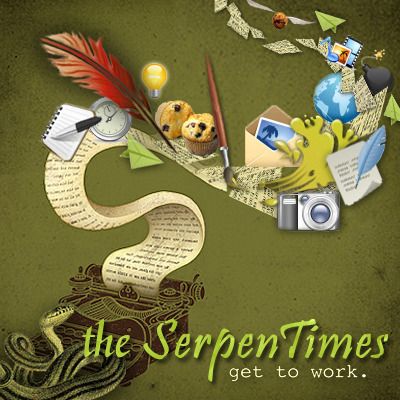 Click above to go to the submit page

The Serpentimes is making a comeback this year featuring an all-new website. Now's your chance to be included in its grand release! Have something you're just dying to say? Do you have an activity or project you want to advertise? Is there a recipe you want to share with the school? Drawn something recently you'd like published?

We've already gotten several articles which we'll be releasing on September 1st. Will yours be amongst them? Get your article in by August 30th, and it will be!

Remember, submitting articles earns you points! So don't be shy! Click the banner above to learn more.


Image created by our AWESOME Bianca Delacroix. If you decide to steal it, I will Avada you.