HOL Blog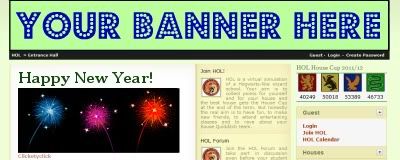 Click for details!

Click the image and join HOL's Anti-Bullying Campaign!

image created by the fabulous Jenna Hathaway

Look for your luck
Professor Cassandra Lobiesk has attained being a --------TRUNCATES THE REST OF THE SENTENCE---------

Congratulations?

Edit: Take that, Tarma Amelia Black! *shakes fist*


Hey Everyone!

I just wanted to remind you all that there is only one week left to RSVP to the 10 Anniversary HOL Meetup. So you plan on coming, I need you to send an email by June 30th to pixel@hol.org.uk and let me know. In the email, please include the following:
- your HOL name and HOL ID
- your age (if under 18)
- the number of people who will be coming with you, if any

Simply mentioning that you are coming on the Facebook group is NOT GOOD ENOUGH, unfortunately. :)

Once again, if you aren't able to RSVP by June 30th, you are of course still welcome to attend the meetup; however, you will not be able to join us for dinner Saturday evening because we will have already made restaurant reservations for the appropriate amount of people.

Hope to see you all there! x

Pixel

Clicky
Okay, guys. So, Rames and I were talking and here's the deal with hotels: They can be expensive and everyone has a different budget. It's quite frankly impossible to find an option which will suit everyone in the end. Some people want to book today, some people think it's cheaper to wait until a week before they travel. I also can't be sure whichever hotel I pick will have enough rooms for everyone whenever people DO get around to booking.

My suggestion is to get together with friends you want to room/share a hotel with and booking something which suits your needs around the Midtown/Greenwich Village area. If you're going to aim for a hostel, which can be a really cheap option, I'd book sooner rather than later because they disappear pretty fast. Keep in mind that there ARE, however, pretty good last-minute options occasionally. Some hotels even offer "family" or "group" rooms which may be fun and lower the costs a bit for some.

I apologize if this is an annoying announcement, especially for those who have been waiting for me to pick a hotel (I'm looking at you, Buffy) but after going through my list again I came to the realization that it doesn't really matter WHICH hotel I pick; we're only going to be sleeping there, anyway. All the fun is going to happen outside of the hotels. ;)

Reminder: We need to know (by email) if you are attending the HOL Meetup no later than June 30, 2011 in order to make Saturday night dinner reservations for the correct number of HOLers. If you do not inform us by this time, you are still more than welcome to attend. However, you will be entirely on your own when it comes to your meal Saturday evening.

In your email, please include:
- your HOL name and HOL ID
- your age (if under 18)
- the number of people who will be coming with you, if any

I look forward to seeing you all soon!