HOL Blog
With a brand new layout for a brand new year, the Spring '09 Edition of The SerpenTimes is now available for your reading pleasure.

Read about Basilisk bones discovered in Columbia!

Feel your skin crawl as Ashlee Sully relives her harrowing ordeal as a hostage of DaKeed Nappers!

Find out why you need to read The Watchmen, watch The Watchmen, and listen to "The Watchmen!"

Witness Megaera Selwyn help people teach an old dog new tricks and deal with doggy depression and puppy hunger strikes!

And if that's not enough, there's puzzles, riddles, artwork, poems, and short stories galore!

This edition of The SerpenTimes is a wonderful smattering of delectable submissions!

Your own personal copy is waiting for you right here.
Do you dream about seeing your name published in The SerpenTimes? If so, here is your opportunity to make that dream a reality (and earn some points in the making)! The Spring Issue of The SerpenTimes is due out in a few weeks and we need more articles!

We are looking for:
Reports (Wizard-Related)
Fictional Stories
Reviews
Poems
Puzzles
"How-To" Guides
And More! - Anything you can think of will be considered!

We are also calling for questions to be submitted for two of our articles:
1. "Ask Ashlee" - Send in a wizard-themed question and she'll give you honest advice!
2. "The Dog Scoop" - Does your dog have a funny habit or something that worries you? Send Meg your question and she'll do her best to help!

Please see the SerpenTimes Welcome Page for the "Points Guideline."

All submissions should be sent to holserpentimes@gmail.com. Please include your HOL name!

Submissions are due March 6 (date has been extended). Get writing!

If you have any questions, please contact Megaera Selwyn, as Ashlee Sully is still missing!
The month long pageant to find who best represents Slytherin house has come to an end. I would like to thank all that have participated and those that voted. I hope we can do this again next year now that we can fix a few kinks that occured in this years First Slytherin Pageant.

So without further ado I present to you the winners:

In 3rd Place Daphne Marin
In 2nd Place Ariel Kingston

And coming in 1st place, voted by you in HOL is.....

ASHLEE SULLY!!!

She is the first ever Miss Slytherin. She will have many duties to fulfill like go to the openings of supermarkets, promo pictures with little witches and wizards at Hogsmeade stores, and flying in the annual Yorkshire pudding parade.

If for some reason Miss Sully can not complete her reign or if she is suddenly attacked by a band of hippogriffs let loose by the other contestants, then the runner up (Ariel) will take her place.

Again thank you all for participating and take a look at the nice awards:



The crown is for the winner of the pageant
the silver locket for 2nd place
bronze locket for 3rd place
and the pink bowtie goes to the assistant(s) for the pageant and that goes to Zoki Phanton and Lilly Stargazer.

Thank you again and See you next year!
Hear ye, Hear Ye!! The competition has begun. These 13 brave snakes have thrown their names in the hat and have us..yes all of HOL decide who represents Slytherin through and through best! (They actually all are true Slytherins for we love the chance to prove our loveliness *wink*)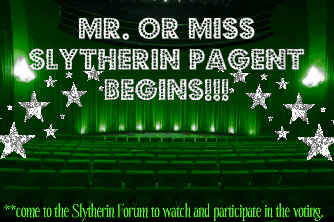 Here are your lucky 13 contestants:

Emily Cullen
Meg Selwyn
Daphne Marin
Nassa Dikaios
Ashlee Sully
Faye Roderick
Lorelei Sands
Ariel Kingston
Opal Curare
India Jolly
Mia Vardales
David Koche
Tambaqui Balthazar

The First Task is up and voting will begin on Januaray 9th!
If you want to watch and vote click here!
If you haven't signed up yet, then sign up here!

(you can also play our growing arcade just remember to click the stay logged in forever buttin *winks*)

SLYTHERINS!!!!!!!!

Time has come to show your love of Slytherin House. The Mr. & Miss Slyth Pageant is the place to show who is the most all around Slytherin...both in fashion and in how you think. BUT this pageant will be decided by not only your fellow Slytherins but we are inviting the other houses to help vote.

Sign ups start now and end Jan. 1st Midnight! The list will be put up January 2nd on who will be participating along with the first round "task" which will then be open for voting on Jan. 9th.

(for other houses to vote in the pageant you must sign up in our forum.)

Here is the schedule for the pageant:
Sign ups - Now - end Jan 1st
first task - Jan 2nd - End Jan 9th (open voting)
2nd Task - Jan 9th - End Jan 16th (open voting)
3rd Task (final task) - Jan 16th - End Jan 23rd (open voting)
WINNER WILL BE ANNOUNCED Jan. 30th!

Who best portrays Slytherin in mind, body and soul!? Sign up and let us know!
Slytherins sign up here in this thread!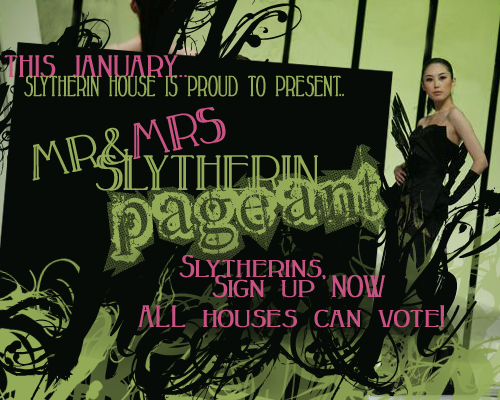 banner made by Aidan Argent
That's right. The wonderful people at Slytherin want to open our dungeon game room doors to the rest of HOL. We are a competitive bunch and would like to see if any of you non snakes can over take our arcade. So if you are bored, competitive, and just want a little fun, head on down to the dark dungeon arcade and play some games.

Just sign up on the forum and wait for validation and Voila! you are all set to play....oh its just 2 knuts for unlimited play. Just insert your money into the Basil Statue's mouth...just make sure it's not the real Basil...or he'll eat chu'.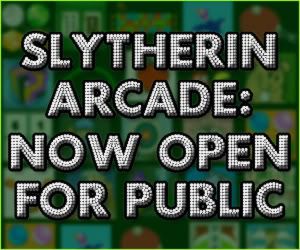 Get chur' paper!! Get chur' paper!! Hot off the presses!!

The winter '08 edition of the SerpenTimes House paper is now available. Read the Ask Ashlee to the Quidditch spotlight report to your movie and music reviews and so much more!

*coughdungeon ofhorrorssectioncough*

Right here off the presses Winter '08 SerpenTimes

If you want to contribute ( you get lovely house points!!) Click here
Info to Contribute
Hey you snakes! If you are a bit tired after the Green vs. Silver battle don't worry, December is Slythmas month! Fun activities throughout the month!

You can claim your day for giving gifts to the house or even a person if you want to! and our lovely coloring of fun!!...remember participation earns your SAP points! so visit this link to see where you can start the fun!

Slythmas

And rack up those SAP points see who will come out as Champion!

(oh and remember to stop by this link to post your fav fall recipes for our Seasonal recipe cookbook and also submit your fall cookbook covers! details follow the links!
Fall Recipe thread
Fall cook book cover Contest )

Now that the month of November has past, the first Green vs. Silver battle has ended. Which side was victorious? Do any of our Slyth student have battle scars? Who can raise the Cup in Victory???

It was a very close battle, however the first year's winner of the Color wars is...........................





YAY!! Congrats to both teams for your hard work!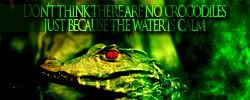 Here is the breakdown of the competition: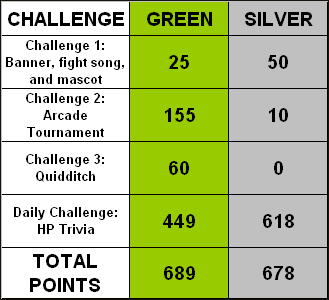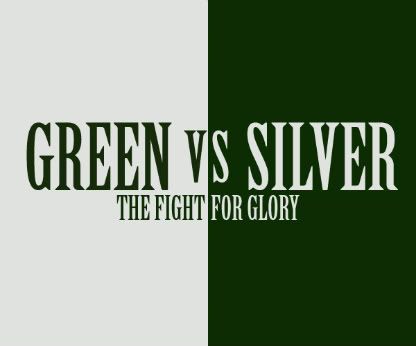 Yes yes it's time! You heard it right, it's coming in NOVEMBER, which is like SOON. Which means the Green versus Silver month! The battle of glory and PRIDE! All month long! \o/ Which side will you be on? How far would you go for victory? Join up for Green vs Silver and find all the answers!

The sign up for Green vs Silver is now officially open, to sign up just simply post your name in this thread - CLICK HERE FOR THE SIGNUPS
before November 1st. All Slytherin house members are invited to participate in this event, so come along!

All the sign ups will then be randomly split into two teams: Green and Silver team. Some of the challenges you'll be facing will include an arcade tournament and QUIDDITCH!

What are you waiting for?? Sign up NOW!