HOL Blog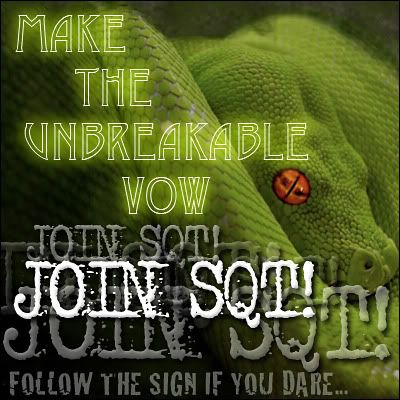 Many years ago Salazar Slytherin put together a group of the most ambitious, cunning,and pure-blood Slytherin students he could find. He called this group the Slytherin Quidditch Team. Now Slytherins, it is our turn to make the our great Founder proud. Grab your brooms, it's time to fly with SQT!

Click the image above made by seeker extraordinaire Faye Roderick for information on how to join SQT.


Click the above image to check out our awesome paper.

The school year has started and the snakes have been busy. After countless amounts of pokes and prods from the pretty awesome Serpentimes staff (cough*SIRI*cough), the paper is finally ready! So sit back and enjoy our back-to-school edition.If you think this will be it for us? You are mistaken! This issue is just the tip of the iceberg for Serpentimes.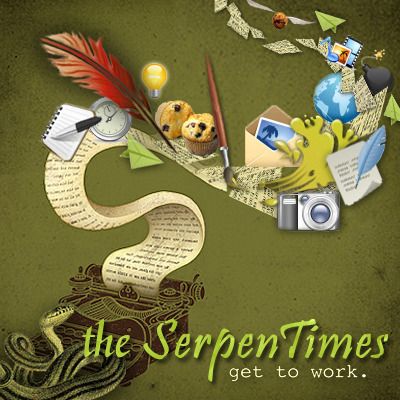 Click above to go to the submit page

The Serpentimes is making a comeback this year featuring an all-new website. Now's your chance to be included in its grand release! Have something you're just dying to say? Do you have an activity or project you want to advertise? Is there a recipe you want to share with the school? Drawn something recently you'd like published?

We've already gotten several articles which we'll be releasing on September 1st. Will yours be amongst them? Get your article in by August 30th, and it will be!

Remember, submitting articles earns you points! So don't be shy! Click the banner above to learn more.


Image created by our AWESOME Bianca Delacroix. If you decide to steal it, I will Avada you.
For those of you currently experiencing issues with the Dungeons, I am currently trying to sort the issue out. Please bear with me. We will hopefully be back up and running shortly.

Prof. Ashlee Sully

UPDATE: Everything appears to be working now, looks like it was a hosting issue - fingers crossed it stays up.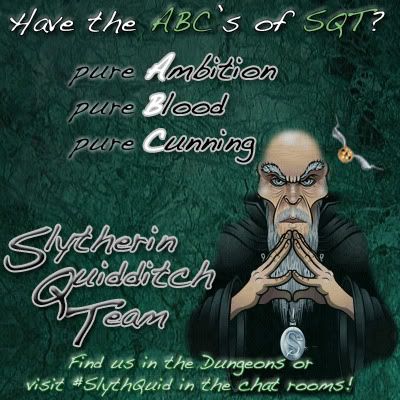 Message Severus McGonagall, Erik Greb, or Xavier Dalen for more information.


I'm very pleased to announce that the following students have been promoted from Promising Students to Slytherin Prefects:

- Alaia Logan
- Justine Provencal
- Severus McGonagall
- Sirithre Leylnn

CONGRATULATIONS! If you're new to Slytherin, feel free to bug your new Prefects. They join existing Prefects, Aidan Argent and Ariel Kingston (who is also a Head Girl!).

I'd also like to announce that Opal Curare is now a Promising Student (aka Assistant Prefect) who will be joining our existing Promising Students, Nikki Walker, Rensha Black, and Marguerite Davenport.

Looking forward to the year ahead with my great team of staff!
Yes, you read correctly, the SerpenTimes Slythmas Edition is now available (on time) for your reading pleasure.

We have some great articles this month including our new S.A.S.S. advice column, Tini's chocolate chip cookie recipe (which I am SO trying), a Christmas Ghost Story by Imogen Tiny, a contest to earn HOL points, movie reviews, poems and much, much more.

A huge thank you to everyone who submitted a piece this month, and also to the Editor-in-Chief, Isaac Chase for all his work. Points will be added in due course.

Enjoy the issue! Click here to read it.


Earn points and spread good cheer!

It's that time of year, and we have an exciting issue coming this December. We are now accepting articles, columns, artwork and stories from all of the houses!

We are also accepting Christmas Shout Outs! Leave a short message for your HOL friends in our paper this Christmas! Make sure your message is no more than 20 WORDS and includes your HOL name and house.

And now, a special message from SASS:

HOL getting you down? Love life hitting the rocks? Send in your problems and our resident Agony Aunt will help you with her one of a kind pearls of wisdom. Questions can be silly or serious, and will be answered in kind. ALL submissions will be treated anonymously, your privacy is guaranteed. This is open to all houses.

~Slytherin Advice ServiceS, SASS

And there you have it. Click the banner above to be taken to our submission page, or send your work to holserpentimes@gmail.com

The deadline for submissions is December 1st, 2010!

If you have any questions please contact Isaac Chase.


You are cordially invited to attend a Masquerade Ball in celebration of Slythoween!

The ball will take place between 29 October and 3 November in the role playing section of the Dungeons, plus in the #grandballroom on IRC.

All houses are invited, feel free to come in costume! Slytherin students are encouraged to the Dungeons for a mask competition that we are running! You can earn some shiny scales!

We hope to see you there!
The Halloween Edition of the SerpenTimes is now available for reading! A huge thank you to all the editors who worked hard on this issue and we hope you all enjoying reading this edition in our new themed layout!

Submissions for our Christmas issue will open in November.

ENJOY!

Click here to read the issue.

P.S If you're a Slytherin student be sure to visit the Dungeons as we'll be having some fun Halloween contests such as pumpkin carving, best costume, and write your own gravestone! Scales up for grabs so be sure to participate.