HOL Blog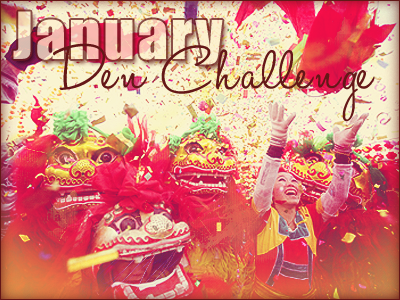 Image provided by Fumei Shirokuro


It's a new year, and for Gryffindor, that means a NEW DEN CHALLENGE! For the month of January, we have our first den challenge in a while. The theme is Chinese New Year... and there's a lot of fun challenges to complete with your den!
Participation has been low so far, but there are a few lions who would love for you to help them!
CLICK HERE to read the announcement for the January den challenge with more information!

If you have any questions, please PM Hailey Potter!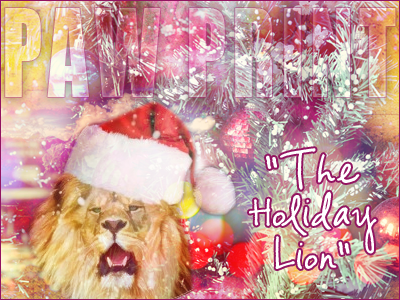 Image by Laurie Lovegood


The December Holidays are over, but the Paw Print is having it's last spurt at enjoying the Winter Holidays. The last issue of the year 2012! And a little bit the first issue of the new year, because this December issue is being released at the beginning of January! But we hope you all enjoy this issue of the Paw Print!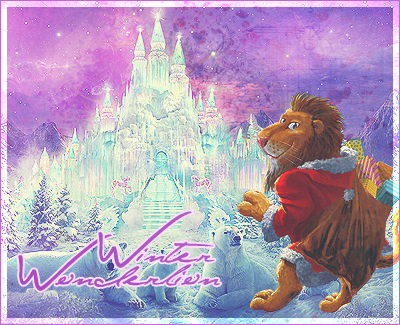 Click the picture to go to Winter Wonderlion!

Gryffindor has started its very own Winter Wonderland! Where all lions can play along in the snow all day long! Where we can celebrate the Holidays all day long with each other!

During Winter Wonderlion, there are numerous of activities which Gryffindors can join, such as a Secret Lion gift exchange, decorating the tree, and even a snowball fight! So Lions, go check it out if you are ready for the adventure in Winter Wonderlion!

(Post and Image by Fumei Shirokuro~!)

Image by Fumei Shirokuro

It's only has been a few week since the last issue of the Paw Print appeared! But here we are again! With a whole new issue! And in this issue we are putting the spotlights on Sports! So for all you sporty students, professors and others around there. Have a look around and read all about the sporty articles! And of course for all you non sport players out there, we also have some normal articles! Go and check it out!


Image by Fumei Shirokuro

October is over, which means all the wickedness is over. But not for this issue of the Paw Print! As this issue of the Paw Print is filled with spooky stories, treats to make for your trick or treat give away. Or just to brag to your friends that you collected this many candy (even through you made it all by yourself!) This issue will haunt your socks off! So go read, drink and get scared! THE PAW PRINT!



Are you creative? Do you like playing around with graphics? Then this activity is for you! LIMS is an abbreviation for The Last Icon Maker Standing. So basically you have to create avatars and compete against other Gryffindors. You have the opportunity to sign up for this event until November 8th but don't let it until the last minute! For more info check the Common Room or click the picture to be taken to the LIMS forum!

Note:This activity is only for the Gryffindor students!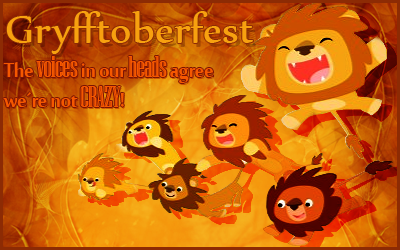 Image by Fumei.

Yes my lovely little cubs, it's Gryfftoberfest time. Every October (literally, every October) we host a month of fun, games, competition, and allow you to get creative and crazy. This year the difference is that we are offering BEANS as the prizes, not just fame or glory or bragging rights.

The motto for this year's Gryfftoberfest was submitted by Jennifer Kusakabe and that motto is The voices in our heads agree - we're not crazy! We had a total of 40 submissions and gave away 170 beans for this one contest alone.

Now that the motto has been selected, we are onto our arts portion. Designing avatar's and signatures to be voted on. The info for this can be found here. Once that contest is completed and a winning signature and avatar chosen, they will be put online for all Gryffindor's to use to their hearts content.

But that's not all. In addition to these two contests that we have, we will have a total of about 8-10 contests running throughout the entire month of October. Many are already posted and the bean count for activity is tremendously high. If you're looking to have a little fun, while earning some beans, you'll definitely want to check out our Gryfftoberfest forum located, here. Come have some fun, play with your fellow Gryffindors and earn tons of beans!
Click the image to go to the Paw Print!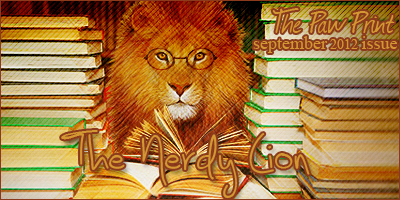 Image made by Fumei

Finish up your HOL feast and head on in to our first newspaper issue of the year! This issue of the Paw Print is filled with welcome messages and introductions to the site and is complete with lots of point opportunities! With dozens of articles, graphics, and challenges completed, there is plenty for everyone to explore and enjoy!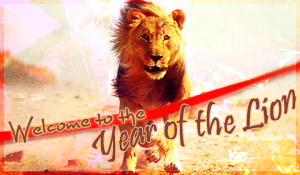 Image courtesy of Fumei.


Are you a Gryffindor?
Do you like to earn points?
Do you like to earn beans?
Do you want to see Gryffindor in any place but last?
Do you want to beat those snakes?

If you answered yes to the first question and then one or more of the other questions, then the new challenge, Gryffindor for Third, is PERFECT for you!
CLICK HERE today to find out more information!
Come visit the HOL forum and see if your name is listed among the 2011 Gryffindor awards! These awards are for people in the house of Gryffindor and outside the house as well. This coming year, awards will be posted on frequently occurring basis, instead of all at once. And yeah, no image, coz I can't make them.

Clicky me!