HOL Blog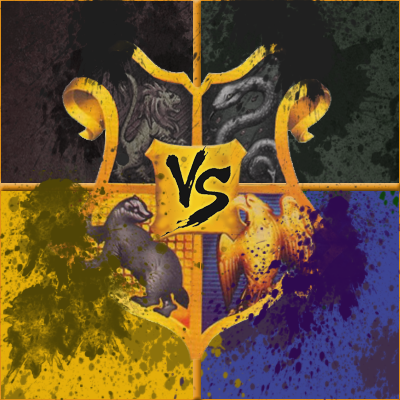 Graphic by Fumei

The Ravenclaw Eagles play the Hufflepuff Badgers on Saturday! Come watch, cheer and have fun!

When: March 18th, 9 PM HOL time
Where: #quidditch
Watch and comment in: #grandstand
CLICK for your Daylight Savings Time conversion

Graphic by Fumei

The Slytherin Snakes play the Gryffindor Lions on Saturday! Come watch! Bring butterbeer and pizza!

When: March 11th, 9 PM HOL time
Where: #quidditch
Watch and comment in: #grandstand

Graphic by Fumei

The Gryffindor Lions play the Slytherin Snakes on Saturday! Come watch and cheer!

When: February 18th, 9 PM HOL time
Where: #quidditch
Watch and comment in: #grandstand

Pledge today!
Interested? Find out more here!

Graphic made by my 13 year old daughter in 20 minutes. She wanted longer but it was her bed time. Thanks Aya.

It's time for Gryffindor's Annual Gryfftoberfest! We've been running this for years now, however there's been a change, for the better, we think. Between 90-95 percent of the contest will be open to ALL of HOL. Right now we are running the motto contest, which will end on October 1st. While that one is for Gryffindor's only, almost every single one of the other contests will be open to all of HOL.

We'll be doing a signature and avatar contest, based on the winning motto. There will also be tasks you can do to earn raffle tickets. There's our oldies but goodies, such as the Pumpkin Carving Contest and dressing up the Gryffindor Fat Lady in a lovely new gown, and so much more!

In order to participate you MUST be registered for the Gryffindor Common Room. If you aren't you can find instructions on how to register properly here.

Once you're registered, head on over to the Gryfftoberfest forum, located here We will be adding raffle tasks and regular tasks all throughout the month of October, so make sure you stop by!



We are very happy to announce that the errors on the main HOL site should now be a matter of history. Amongst other things, this includes receiving log messages, beans, pet logs and the reopening of the Greenhouses.

Right now, we are trying our best to keep everything smooth and prevent such things from occurring in the future. In the process of achieving that, you might find handfuls of minor and major improvements on the site itself over the course of the next few weeks.

In case you still encounter certain errors, you can report them by emailing dario@hol.org.uk.

Thank you for staying true to HOL.

- HOL Headoffice
The HO is very aware that there is an error in the greenhouse...the plants don't show up when you go to turn them in. We've already sent someone 400 beans for this because they weren't as lucky in their bean count. I, myself will lose 800 total, from my last batch and this one.

I am telling, not requesting, telling, everyone who has a plant in the greenhouse, that they will be compensated for their plants that were planted before this post or have not been 'mature' for the last 2 months. Don't touch them. Unless they are dry, then let me know and I'll send you a bean or two.

So, any mature plants that have been sitting there over two months, I'm sorry. This issue isn't that old. To those who just planted, we'll cover. To those in the process, we'll cover.

The greenhouse is going offline in no more than 72 hours.
"Another year gone! What a year it has been! Hopefully you heads are all a little fuller than they were. You have the whole summer ahead to get them nice and empty before next year starts."

We hope you've had a great year, you've managed to accomplish all your goals and that you've made lots of friendships. If not, there's always next year!

Now, we have some acknowledgements to give out. First of all, congratulations to the Slytherin Quidditch Team for winning the Quidditch Cup! For those of you who did not follow the matches, they were the undefeated team this past season.

Congratulations are also in order for everyone in Ravenclaw for winning the House Cup! They manage to take the cup home once again, this time with 64,321 House Point. Well done, eagles!

Our top points earner this year is Ashley Margaret, who in her Sixth Year managed to win a whopping total of 5,059 House Points! Congrats, Ashley!

Everyone who has managed to acquire 2 quills this past year will be graduating to the next year in the coming days. However, please be considerate when celebrating as our Seventh Year students, including our awesome Head Student Arielle Lemoyne, will be taking their NEWTs in the hope to conclude their journey as students. We wish them all good luck!

Lastly, for those interesting in teaching next term, whether as a Student Teacher or Professor, keep an eye for the Class Applications which will start soon.

We hope you have a lovely summer and get enough rest for next year!

~ HOL Head Office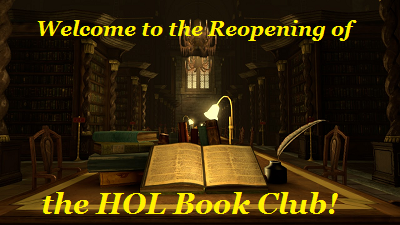 Click the image to be taken to the new forum
Image by Prof. Tarma Amelia Black

After a brief hiatus, the HOL Book Club is now back with reviews, discussions, various prompts and even an activity or two in the works!