Week 8
of
SQL 2019
continues with a special request from Will ...
Solve this
Hitori
puzzle and earn
10 Quods
!
Hitori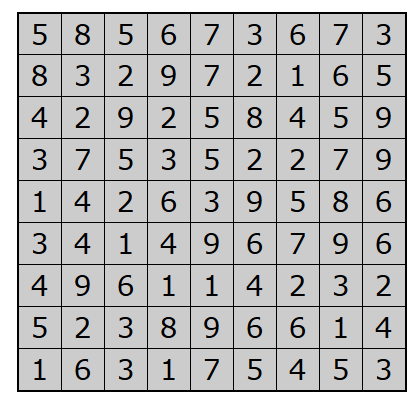 Click
here
for direct link to puzzle.
Wonder how to do this?
Hitori Objective / Rules
- Eliminate numbers until there are no duplicates in any row or column.
- Eliminate numbers by marking them in Black.
- You are not allowed to have two Black squares touching horizontally or vertically (diagonally is ok).
- Any White square can be reached from any other (i.e. they are connected).
Click here
for more information on how to solve Hitori puzzles
Send me your solution to this Hitori puzzle via
HOL PM
with Subject:
SQL 2019 - Week 8 - Hitori
You have until the end of the Activity, August 25th 11:59 PM HOL time, to send me your solution for this puzzle!
ps - If you get stuck, send me what you have. We'll play with it and see if you can get unstuck!

[/size]
If for accessibility reasons you can't complete an activity, please just let either Will Lestrange or me (Professor Tarma Amelia Black) know and an alternative can be worked out.