Warp 10000
Posts: 6141
Joined: Sun Dec 14, 2003 6:31 am
Happy Birthday, Asky!
I hope you have a day full of magic and wonder.

Cleansweep One
Posts: 593
Joined: Fri Aug 03, 2012 2:02 am
Location: USA
Happy birthday, Asky!!!

Moontrimmer
Posts: 210
Joined: Sat Nov 12, 2016 1:42 am
Location: Hogwarts

Shadow Gaunt
"In this world nothing can be said to be certain, except death and taxes."-Benjamin Franklin
Oakshaft 79
Posts: 152
Joined: Wed Sep 14, 2011 4:21 am
Happy Birthday, Asky! I hope it's a wonderful day!

Oakshaft 79
Posts: 151
Joined: Mon Dec 08, 2003 7:40 pm
Location: Hufflepuff
Thank you for all your Birthday Greetings. I had a lovely Birthday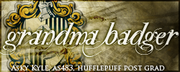 AskyKyle|as483|Hufflepuff|
PostGrad|Pezzie'sHuffieSis|
Hollers|Hufflepuff Staff.
Siggy by Efie