Welcome to
SQL 2019: The Race for the Quods -- Week 2
As with all of the logic puzzles,
everyone
is invited to solve this puzzle and send in the solution for
10 Quods
. You do not need to be entered in the Snitch Tournament to solve them and earn those
Quods
!
If you are in the Snitch Tournament, be sure to note that this is one of the puzzles which might be used in your game. If you have solved this puzzle ahead of time, and it is used in your Snitch game, you are all ready to get all the clues, send in your answer to the snitch referee (if you have already solved the puzzle), get the snitch location -- and catch the snitch!
Snitch Puzzle #2
Lou's Bar and Grill held a friendly darts tournament this week. Using only the clues that follow, match each player (Greg was one of them) to his score (41, 48, 55, 62 or 69), hometown and dart color.
1. Of Felix and the player who scored 69 points, one was from Oakland Acres and the other threw the gray darts. Tom finished 7 points lower than the player from Yorktown.
2. Of the player who scored 41 points and Felix, one threw the black darts and the other was from Toledo.
3. The contestant who scored 48 points didn't throw the yellow darts. Colin finished 7 points lower than the contestant who threw the red darts.
4. The five players were Tom, the player who threw the black darts, the player who scored 69 points, the player from Yorktown and the contestant from Worthington.
5. Tom finished with 41 points; he wasn't from Mount Union. Matthew didn't finish with 55 points and didn't use white darts.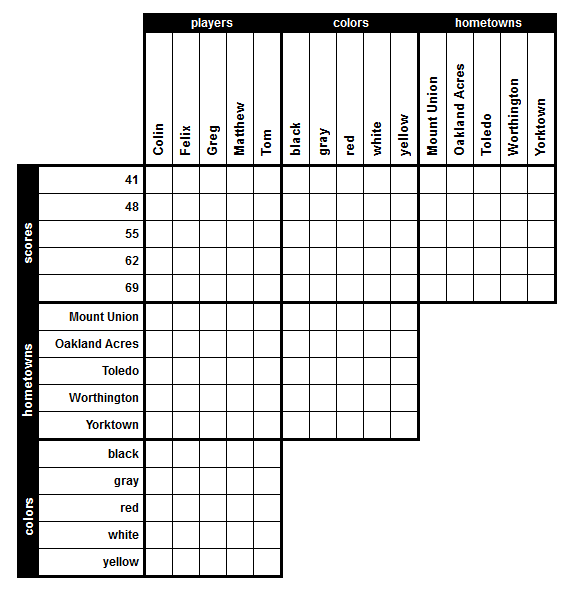 Direct link to grid -
click
Send me your Solution to this puzzle via
HOL PM
with Subject:
SQL 2019 - Week 2 - Snitch Puzzle #2
You have until the end of the Activity, August 25th 11:59 PM HOL time, to send in your answer to this puzzle!
If for accessibility reasons you can't complete an activity, please just let either Will Lestrange or me (Professor Tarma Amelia Black) know and an alternative can be worked out.