Alte Sententiam BINGO: A Creative Writing Challenge
Rules:
- The Alte editors will provide a BINGO board with writing prompts that can be done per issue. This board will remain constant throughout the HOL school year.
- HOLers are welcome to take a prompt from the board and submit a short story relating to that prompt.
- You are allowed a maximum of 20 points for this challenge
PER ISSUE
, 10 points per short story. You are, however, free to submit more stories (from the prompt) should you want. I'm not stopping anyone from doing so, but please note that I can only give you a max 20 points for this challenge per issue.
- Short stories should be
300 words or more
. This is not a drabble, so we'd like a little more effort, please. Conversely, please take note that you will only be getting 10 points per submission. Try not to send us anything longer than 1500 words (As much as we love long stories, we also need to make sure we have the time to edit all of them properly without going crazy).
-
All work MUST be your own.
Plagiarized stories get burned by our pet dragon. Maybe we'll even send our unicorn after you soon after. Just don't copy somebody else's stuff, please.
- Send all submissions in the body of your email to
alte.sententiam@gmail.com
with the subject
"BINGO: Your Story Title"
.
Please include your HOL name, House, and which prompt you are using so we can keep track of your progress
.
- For any further questions, please feel free to ask any of the editors (Gail Allen, Rorey Padfoot or Ryan Granger). We can be reached via email or at alte.sententiam[at]gmail.com
BINGO Board: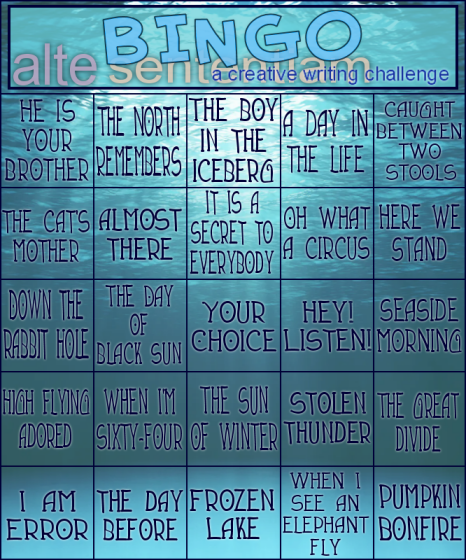 (Click on the image for a larger version)
For anyone wanting a written version, click
here
.
October Issue Deadline: MONDAY, 30th of September