Welcome to November! Winter is in the air -- leave have turned colour in many places and/or are already off their trees. Frost (or ice) shows up on water troughs and wind shields. BrrRRRRR. So we have something nice and
warming
for you to do .... a Hitori!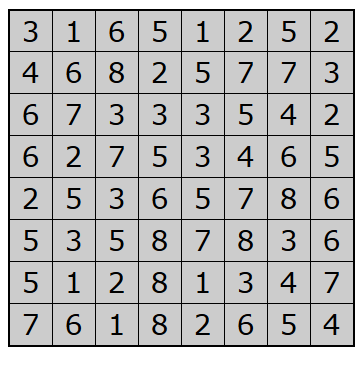 Solve this Hitori and send me the solution in a HOL Forum PM titled "
November - Hitori
" by
November 30th
to earn
25 Hoots
.
In case you are not familiar with the Hitori game, here is a brief look --
Hitori Objective / Rules
- Eliminate numbers until there are no duplicates in any row or column.
- Eliminate numbers by marking them in Black.
- You are not allowed to have two Black squares touching horizontally or vertically (diagonally is ok).
- Any White square can be reached from any other (i.e. they are connected).
Click
here
for more information on how to solve Hitori puzzles.
If you get stuck, you are welcome to send me what you have and I can tell you what is correct (or incorrect as the case may be).
Good luck!