Earn
20 HOOTS
by completing this
Hitori
and sending me your answer, in a
HOL Forum PM
, by the end of
June
. Title your PM "
HOLLERS - Hitori
".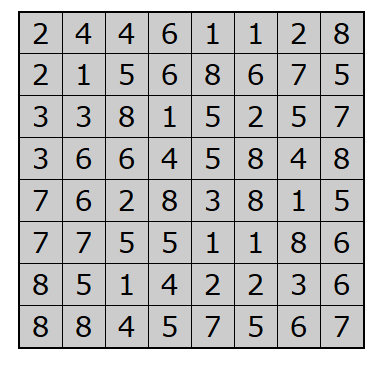 For direct link -
click
For those of you not familiar with this game -
The objective is to eliminate numbers by blacking out cells so no number appears more than once in a row or column. Black cells can only touch each other diagonally. The remaining white cells must be connected to each other.
The full rules are:
*Some squares must be shaded so that no unshaded number is repeated in a row or column
*No shaded square can touch any other shaded square horizontally or vertically (they may touch diagonally however)
*You must be able to 'travel' from any unshaded square to any other unshaded square simply by moving left/right/up/down from unshaded square to unshaded square (ie have a continuous pathway through the entire grid to all unshaded areas).
Here is a sort of helpful guide on how to play Hitori -
click
.
Note: If you get stuck, send me what you have and we can play with it and see if you can get unstuck.

Note the Second: If you get stuck and are at the end of the month, still send it in. You can get partial
Hoots
for what you do get right!