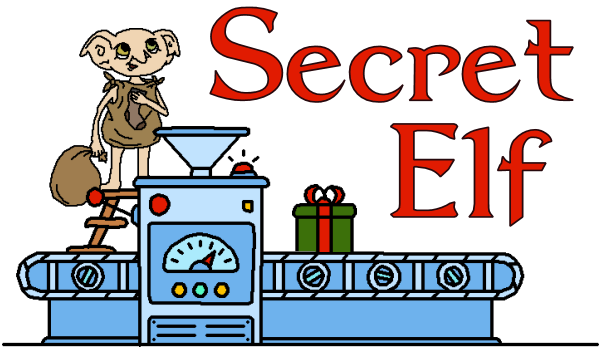 [Picture shows an elf operating a gift-making machine and contains the words "Secret Elf"]
"Jingle bells, jingle bells, jingle all the way..."
December is here! And to me that means a month of baking cookies, crafting all kinds of decorations to hang around the house (some of them even look halfway decent!) and spend time indoors, wrapped up in a fluffy blanket with a cup of hot chocolate or tea and a good book.
Oh, and of course gifts! I love to spend time considering what to give the people in my life who mean the most to me.
The elves have told me they feel similarly and that is why we are doing this activity! So that everyone at HOL who would like to receive a gift and would like to help the elves give one in return, will be able to help them do just that!
So how does it works?
In
this thread
, you will sign up for this activity with a list of what you would like to receive and what kinds of gifts you would like to give.
For years the elves have been used to giving candy and knitted socks as gifts, but since they heard that HOL is all virtual, they have decided to branch out and make all the presents virtual instead of physical. It can be anything from a new siggie/avatar, to a list of book recommendations or a new visual sudoku to solve (or anything in between). Feel free to also throw in some 'silly' stuff too. Personally I am hoping for a huge box of timeturners!
If you want to send beans as part of your gift, you can absolutely do that. Just send them to one of the organizers with a screenshot sent to the email as confirmation, and we will pass them along. Please note that beans alone are not enough however; the elves would like there to be a little more effort put into making the gifts personalised.
Once sign ups are closed, we will assign elves to everyone and let you know through PM who you've will be giving a gift to. Once you have your gift ready, send it to this mail address:
secretelf2019.hol@gmail.com
From there, your gift will be sent anonymously on to the recipient.
If you wish to have your identity known to the person receiving your gift, you may tell them after all the gifts have been sent out: there will be a forum post in this area when that has happened.
Timeline:
December 2nd:
Sign ups open
December 9th:
Sign ups close
December 10th:
Partners will be matched
December 31st:
Gifts due date (All gifts must be in by then. Yes, it is a few days after the actual holiday, but elves are extremely busy creatures, you know!)
Furthermore the Elf Union has informed us that proper wages must be paid to anyone acting on behalf of them. Therefore, each participant will be awarded 30 house points. In order to receive your points, you must send your gift to the secret elf email before midnight HOL time on December 31st!