No broom
Posts: 98
Joined: Sun Dec 09, 2018 3:05 pm
Hello! Welcome to Harry Potter: Family Studies! This is the class forum. You can complete the class introduction here, post questions here, check points here, and look for announcements! Have fun!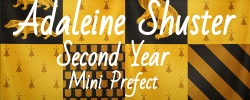 No broom
Posts: 4
Joined: Thu Feb 28, 2019 10:38 pm
My name is Selenophilia Moon, I was sorted into the Hufflepuff House on February 23, 2019. I am a second Year Hufflepuff. I am taking five classes this winter sessions. I hope to learn a lot about the potter family and they interwind with other families in Harry Potter. As a family we like to cookout in our firepit in the back yard. The babies swim the kiddie pool while we cook over the fire with hot dogs and hamburgers. We have a lot of fun and it strengths our family ties. My favorite time of the year is Christmas and just to see the grandbabies eyes light up and that is what Christmas is and it is family time as well. I enjoy learning and reading to help me understand the Potter World Better. I am looking forward to this class. I hope to learn more about Lily and James before they had Harry. I think it is very exciting to learn new things. like I said before I am looking forward to learn in this class. Selenophilia Moon - Hufflepuff
No broom
Posts: 98
Joined: Sun Dec 09, 2018 3:05 pm
If anyone was in this class but doesn't appear to be anymore, please just send me an HOL message and I'll add you back in. If you weren't in this class before but want to take it just sign up normally. Thanks!