As you pass yet another table, a breeze knocks a pile of parchment off the edge. You reach down to snag a few sheets before you accidentally step on them. They appear to be maps of the castle with a few important locations marked, though you don't think nearly enough things have been labelled to stop folks getting lost.
Hogwarts students in years gone by probably wished for a map (marauder's or not) to stop them falling afoul of the trick stairs and to nudge them toward a convenient shortcut or too. Newer students: wouldn't it be great to document your discoveries as you explore the school? Older students and professors: wouldn't it be great to help a new student by adding your insights and advice to some of these maps?
You can do this task one of several ways: you can find yourself an outline or blueprint of Hogwarts like the one below and annotate it with helpful (or not so helpful) notes, you can draw a rough sketch map of the castle and do the same or you can describe what annotations you'd make and where (providing it's in
more than 80 words
). Try to have fun with it, these additions don't need to be strictly practical (they also don't have to be HOL specific, though if you'd like to weave in HOL knowledge, please feel free). Remember, if you make a graphic: upload it to an image hosting site and ensure it is no more than 600 by 600 pixels before posting.
Possible Outline: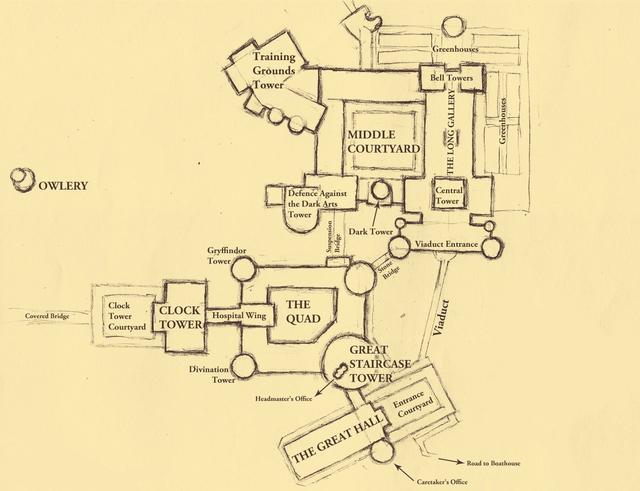 (click for larger image)
To earn 5 house points, please post your customised maps below by
11:59 PM HOL-time on September 30th!
(Full credit to the original creator of the image)