Welcome to SQL 2019: The Race for the Quods! As Will wrote in our
Introduction post
In the beginning of the tournament (first half if round robin; group phase if playoff), we will do PRE-SOLVED puzzles (the puzzle will be given as a forum activity in the previous week, so no time needs to be spent solving)
Everyone
is invited to solve this puzzle and send in the solution for
10 Quods
.
If you are in the Snitch Tournament, be sure to check out which puzzles are being used in the games. (They will be noted in the Snitch Schedule.) If you have solved your puzzle ahead of time, all you need do is get all the clues, send in your answer to the snitch referee (since you have already solved the puzzle), get the snitch location -- and catch the snitch!
Have fun!
Puzzle Number One
MVP Events prides itself on planning large-scale parties for 50 or more people, anywhere in the United States. This month the company has several different events to plan. Using only the clues below, match each event (one is an anniversary) to its number of attendees (50, 75, 100, 125 and 150) and the state (one of which is Hawaii) in which it will be held, and determine which MVP employee, one of whom is Vicky, is handling the logistics.
1. The symposium assignment will involve 25 fewer people than Clarence's job.
2. Of Kurt's job and the assignment with 150 attendees, one will be in North Dakota and the other is the retreat.
3. The event in Arizona, the retreat job, the job with 50 attendees and the graduation job are all different events.
4. Herbert's assignment will involve 50 fewer people than the event in Delaware.
5. Patrice's job will involve 25 fewer people than the birthday assignment. Clarence's assignment will involve 75 fewer people than the event in Iowa.
We're also giving you a pre-made Grid for your use -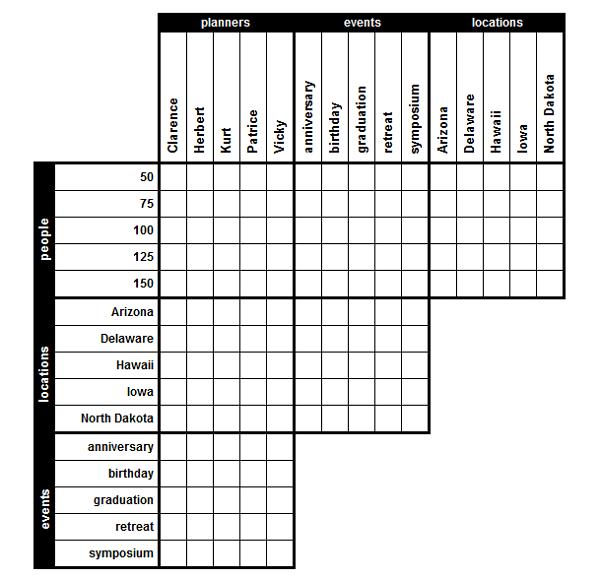 Direct link to grid -
click
Send me your Solution to this puzzle via
HOL PM
with Subject:
SQL 2019 - Week 1 - Snitch Puzzle #1
You have until the end of the Activity, August 25th 11:59 PM HOL time, to send in your answer to this puzzle!
Remember, though, if you are signed up for Seeking, you might want to keep an eye on the Schedule, as there will be indications of which puzzles will be used in which games.
"If for accessibility reasons you can't complete an activity, please just let either Will Lestrange or me (Professor Tarma Amelia Black) know and an alternative can be worked out."