In September we read the story of Aerin, of the land of Damar, in the book
The Hero and the Crown
by Robin McKinley.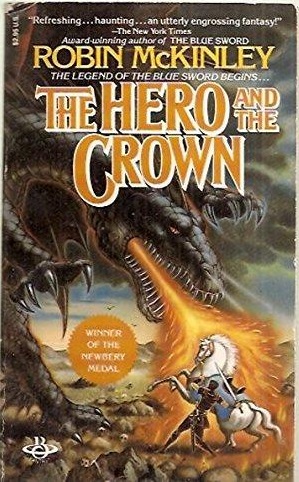 Image shows a painting of a huge black dragon breathing fierce red and gold fire on a white horse and a person dressed in some sort of leathers. The person holds a sword, held to attack the dragon. At the top of the painting are words "Refreshing ... haunting ... an utterly engrossing fantasy!" - The New York Times
Award winning author of THE BLUE SWORD Robin McKinley
THE LEGEND OF THE BLUE SWORD BEGINS ...
The Hero and the Crown
Beneath the word 'Crown' is the huge black dragon head breathing fire on the white horse and person with the sword.
Words to the left of the person and horse - Winner of the Newberry Medal"
As usual, we offer a guideline for reading
The Hero and the Crown
-- but remember, it's only a guideline! Read (and enjoy) at your own pace and post when you have finished a certain section.
1-7 September:
Part 1 - Chapters 1 - 6
8-14 September:
Part 1 - Chapters 7 - 11
15-21 September:
Part 2 - Chapters 12 - 17
22-30 September:
Part 2 - Chapters 18 - 25
Have you read
The Blue Sword
(the first book of the story of Damar)? If you have, you are in for a treat as you find out about the history of this wonderful land. If you haven't, and you end up loving this book, be glad that there is another book about Damar to read and enjoy.
If inspiration strikes you, please feel free to share some of your own
fan fiction
,
poetry
,
stories
or
fan art
.
Remember, if you have any suggestions for future book discussions, please drop us an email at
hol.bookclub @ gmail.com
(with the spaces removed).