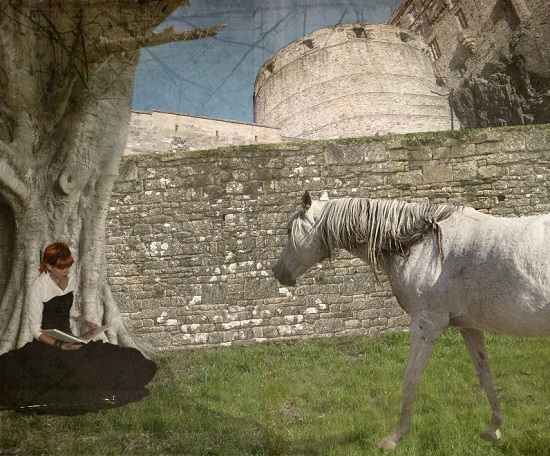 Graphic shows photograph of woman sitting and leaning against a tree, reading a book. She has deep red hair and wears a long green dress or tunic, which has white upper bodice and long white sleeves. The tree is in a paddock which has stone walls. In the background, on the other side of the wall, are what appear to be buildings of a castle. Approaching the woman is a thin white (flea-bit) horse - it has a tangled mane.
- by aranov
In these chapters we meet Aerin. "Aerin is an unsatisfactory princess—she isn't beautiful, she isn't accomplished, she has a dubious dead mother who was probably a witch,
and she managed to give herself a bad case of vertigo by eating a magic plant."
~ Jo Walton
What do you think of the characters we meet so far? Do you like any of them ... or dislike any of them? Does someone show up as particularly wonderful?
Please remember to include spoiler tags when discussing specifics.