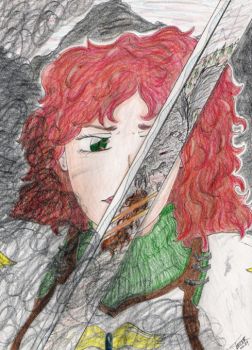 Graphic shows a drawing (close-up) of person with red hair; this person is holding sword upright in front of them. The blade of the sword obscures a great deal of the face. One large, worried eye, part of the nose and mouth are seen. In the background is a black mountain. The sword appears to have bloodstains on it. It also appears to have a damask blade.
~ eyes_of_doom_by_teezersattempts
You will have noticed, by now, that the book isn't written 'time' sequentially. That is
"the first third of the book covers Aerin's early life, but it doesn't do it in order. It begins with the same events it ends with, and goes back and fills in, and does that in a hopping about manner rather than as straightforward flashbacks."
~ Joe Walton
I found this to be rather fascinating, because
each 'topic' was explored back and forth, with greater detail each time.
But does it work for you? Also, what has happened which surprises you? Anything?
Please remember to include spoiler tags when discussing specifics.