February Newsletter
~ ~ ~ Let the Spring Term begin! ~ ~ ~
These are the House Point standings at the start of the new term. You can always check out the most current standings
here
on the HOL Main Page.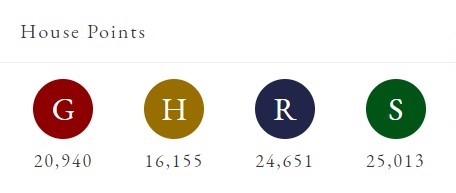 House News
As a reminder, every common room must be signed up for separately from the main HOL Forums. Each house has their own points system, but you can earn House Points by submitting to their newspapers! You can join every common room, though you will only have full access to your own house's forums. There are still many fun things you can do when visiting others though:
Gryffindor
Gryffindor
is overrun with nifflers who have stolen all the
rubies
! They'll need all of HOL's help to negotiate for their safe return and to tidy up the mess. The
first tasks
have been released and each week, three more will follow.
Slytherin
Slytherin
is celebrating winter with their
Winter Fling
event. The deadline for all challenges is February 29th.
Serpentimes
is looking for contributions for their newspaper. The theme for the next issue is Focus. The deadline to send in submissions and earn some House Points is March 15th. The
Harry Potter Read-Along
is still going, they are reading
Harry Potter and the Half Blood Prince
. Daily trivia and weekly tasks are posted. The
Arcade Club
has a
new game challenge
for you this month: Nibbler. The
Puzzle Exchange
is continuing as well.
Ravenclaw
A new issue of Ravenclaws Newsletter –
Alte
– will be coming out this month. Keep your eyes peeled, because there might just be something coming up in the Roost...
Hufflepuff
For the moment, the Hufflepuff Forum is getting
some updates
and is unavailable for now. As soon as the Sett is back up again, Hufflepuff will have its usual Challenges in the
Games Tent
with lots of opportunities to earn
Diamonds
!
News From Around HOL
A new term has started, which means
Class Sign-ups
are open! You can enlist in up to 5 classes. Good luck choosing
Book Club
The Book Club has a brand-new activity called
Book Teasers
! This month the spotlight is aimed at… a turtle with four elephants on its back that seem to be carrying a large flat disc?! Welcome to the Discworld series by Sir Terry Pratchett.
Quick Quotes
has returned! A new prompt will be posted each week and every quote will earn you 10 beans. The prompts in
Quill and Ink
and
Ink Splatters
aim to help you get to grips with character development.
There might be something else coming up in the Book Club in February, so watch this space!
HOLLERS
As always, in each new month, we post 3 new puzzles in our
Monthly Challenges
. Check out the
Creative Outlet
section of the HOLLERS Forum, for both
Writing Under Constraint
and different options for you to be creative!
Remember too - you are welcome to participate and post in
The Scrapbook
. We have a place for you to put your HOL Memories!
Click
to read more.
HOL Departments
The
Art Department
has two different projects going on: Magical Zoo and Favorite Object. You may still vote for the last project until February 15th.
The
Library Department
started the term with two fresh projects – Speech, Speech and My Undoing, which considers how the wizarding world might have changed if an HP character could undo one decision in their life. Voting on the last two projects is open until the 14th of February.
Quidditch
The regular Quidditch season continues in March, but Pickups continue all through the year. The next one will be on Sunday, February 23rd at 10 PM HOL-time! [
click for more information about Pickups
. ] Anyone is welcome regardless of their skill or experience on a broom!
Thank you Arianna, Gail, Sky and Tarma for making this newsletter possible