I know there are many people who have LOTS of movie memorabilia,
Star Wars
or
Lord of the Rings
or even
Twilight
... Perhaps there are even some few who are into Doctor Who and have a poster (or three) which is Whovian based!
But what about books? Are there books, which perhaps you haven't read in quite a while, but the 'beingness' of them fills you and sometimes fills your space? Something like ... Harry Potter books? How many of you have a Hogwarts crest hanging on your wall, or a comforter with the House of Gryffindor on your bed?
What other books, or series of books, might a person be so dedicated to that they fill their spaces with items which are a constant, and beloved, reminder of those books?
This is a place to post how you have filled your spaces with books -- or the 'beingness' of those books. You are welcome to write a descriptive or put in photos or draw pictures and put them in here. If you put in photos and/or pictures, please be sure that there is nothing which says your name and location (ie no envelopes mailing you your new wand (or sonic screwdriver) with your name and address on it!).
Please include a little bit of explanation about why you have posted it. Is this a particular favourite of yours or maybe the first book you ever read or you found out that you were a witch after reading it because you got the letter in the mail?
Please keep the graphics to 600x600 or less -- and make sure that all submissions are HOL appropriate.
As for me -- I thought of this because I have, hanging on the wall in front of me when I sit at my computer, a poster from
Neverwhere
(by Neil Gaiman). I totally love
Neverwhere
and cannot say why. Just do! I've the original book and then the Author's Preferred Edition. I've the DVD and then got the Anniversary edition (which includes this map of London Below).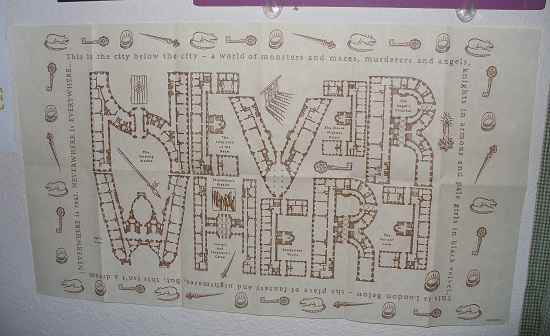 I also have, on another wall in the same room, a poster of something which some might recognize ...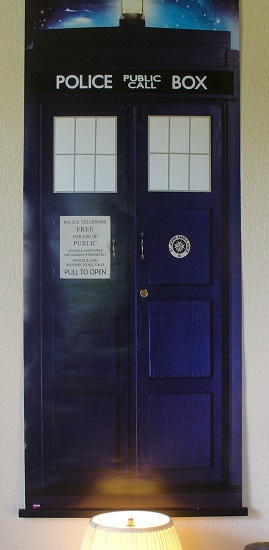 Yes.

If
you've posted something for books, you may also add in a PS about other memorabilia which you have.